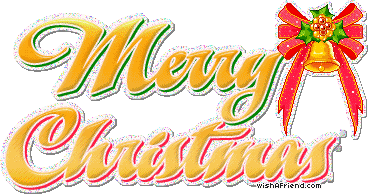 Free Glitter Graphics
,
Merry Christmas Glitter Graphics
First I'd like to wish EVERYONE a very Merry Christmas. I hope you all have a fantastic day and that Santa popped the perfect present in your stocking.
My perfect gift arrived yesterday, 3 tickets to see WWRY on March 9th. David and I will be joined by Chris for what I'm sure will be another memorable night. If you can make it we'd love to see you there.
As you've probably noticed our latest competition ended last night but we have yet to pick a winner. Nobody quite predicted the top 3 in order but we have 2 TT members who came very close and we're yet to decide who the winner should be.
The top 3 turned out to be:
• Bohemian Rhapsody (30)
• No-One But You (29)
• We Will Rock You (26)
Our closest 2 entries were from Emily and Lois. They both correctly predicted 'Bohemian Rhapsody' would win, Emily managed to guess the second and third place songs but in the wrong order and Lois missed out 'No-One But You' but got first and third spot on. We're going to have to give this one some serious thought before announcing the winner. Feel free to let us know what you think by leaving a comment.
Here are their entries:
EMILY
• Bohemian Rhapsody (41)
• We Will Rock You (35)
• No-One But You (30)
LOIS
• Bohemian Rhapsody (36)
• Don't Stop Me Now (33)
• We Will Rock You (29)
Maybe we should also include Chris who had the right 3 songs but had the first 2 the wrong way around.
CHRIS
• No-One But You (45)
• Bohemian Rhapsody (42)
• We Will Rock You (33)
It's a pity we haven't got 3 prizes because it's almost impossible to choose a winner.
I almost forgot....
HAPPY BIRTHDAY DAVID